Rubber Wheels
Monday, May 23rd, 2016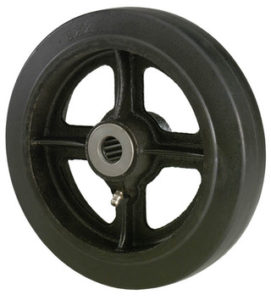 Rubber tread that is molded to a cast-iron, aluminum or polyolefin core. Sizes range from 3" to 18" in diameter and 1-1/2" to 3" wide. Load capacities are available up to 2000 pounds. Our tread features special bonding to insure long life and non-separation. These wheels are highly shock-absorbing, offering maximum load protection and quiet movement. A grease fitting is installed into the wheel hub on all wheels 4" diameter and above. Common applications include, stock carts, platform trucks, hand trucks and refuse disposal bins.
Mold-on rubber wheels have vulcanized rubber tread molded to a heavy duty cast iron core. Offering a shock absorbing semi-cushioned ride, rolling easily over small debris, rough floors, cracks, floor joints, etc.
Thermo-pro wheels have non-marking Thermoplastic rubber tread that is permanently bonded to a Polyolefin core. Shock absorbing cushioned ride offers floor protection and quiet rolling operation.
Rubber mold-on aluminum wheels have vulcanized rubber tread bonded to an aluminum core. This wheel offers a shock absorbing & cushioned ride. Rolling over debris, allowing for floor protection & quiet rolling operation.
Environmentally friendly ECO-RUBBER™ wheels are made from recycled rubber tires, molded to plastic cores. This solid rubber tread offers many of the same advantages of pneumatic tires, without the possibility of going flat. These rubber wheels provide excellent shock load protection and the smooth cushioned ride rolls easily over debris and small obstacles. With a wide soft tread face it is ideal for rolling on grass, sand or dirt.