Ball Transfers
Monday, May 23rd, 2016
Ball Transfers solve a variety of material handling and motion control challenges. Whether used in the traditional 'ball up' position or as a caster in the 'ball down' orientation for rolling applications such as retail store displays, ball transfers offer advantages to traditional casters, such as lower profiles and omni-directional movement, often at a lower cost.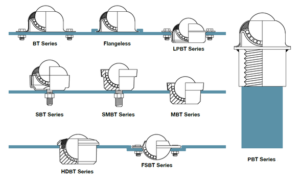 Hudson Bearings is one of the oldest manufacturers of ball transfers in the United States and one of the most innovative. Unlike most of their competitors, Hudson Bearings manufactures a broad and rapidly expanding product line in the USA. The quality is unsurpassed and they pride themselves on their extensive inventory. Whether it's 10 pieces or 10,000, Hudson Bearings ensures your product is on the truck the day we receive your order.
Ball transfer units are available with the highest quality plated carbon steel or stainless steel components, as well as nylon ball components.A wide range of sizes, styles, mounting designs, and materials are available to meet specific material handling and cargo rolling requirements.
Casters of Amarillo, Inc is a stocking distributor for Hudson Bearings and we offer a select variety of ball transfers to meet specific customer needs. Please call us @ (800) 658-6112 to help with your specific needs.