What To Look For When Buying Office Chair Casters
Monday, May 23rd, 2016
Having the proper office chair casters on your furniture makes working in an office setting much more enjoyable.  You should select office chair wheels that are appropriate for your floor. By making this decision based on your flooring, you won't have to worry about your chair getting bogged down in thick carpeting or sliding all over slick floors. Also, be sure to consider functionality and style when choosing office chair casters.
Select office chair wheels that are appropriate for your floor.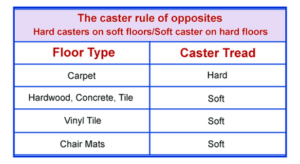 The key to finding the right office chair casters is selecting wheels that are appropriate for your flooring. For example, twin roller wheels are an ideal option for carpeted floors. Twin roller wheels glide easily, minimizing the risk of catching on carpet fibers. The wheels offer an even weight distribution that reduces friction, guaranteeing a smooth glide.
Do you work in an office with smooth flooring such as hardwood or tile? Consider a rubber based or polyurethane wheel. Both of these types of wheels grip slick surfaces without leaving marks. As twin rollers can't gain traction, they do leave marks on smooth floors. Harder rollers can even remove a finish from flooring.
As wheels age, they tend to crack, which hinders their movement. A wheel not rolling as easily as it used to may not seem like a big deal, but it can be quite dangerous. Check the condition of your wheels periodically, and order replacements as needed for your office chair casters.
Consider functionality and style when choosing office chair casters.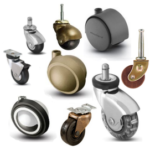 When choosing an office chair caster, consider the weight of the person along with the type of chair that you are putting it on. Most office chairs today will require five casters and will be seen in conference rooms as well as board rooms. For decorative casters you can consider selecting a contemporary or a more traditional style.
Casters of Amarillo, Inc. carries an extensive selection of casters and wheels ranging from light duty to heavy duty. These products are intended for numerous applications including office chairs, carts, and material handling equipment. We also carry additional material handling equipment that enables productivity and ultimately, profitability. Do you need a custom order? Our specialists can build casters for specific needs. To learn more about our products and services, give us a call today at 1(800) 658-6112 or Contact Us via email. You can also stop by our business at 1520 S. Polk St. in Amarillo, Texas.