Boltless shelving is ideal for many residential, commercial and industrial uses. In the office it can be used for general storage, file storage, record archives and workstations.
For distribution centers or warehouses its versatility supports inventory control and inventory picking operations. In a retail store it can be used to support merchandising and storefront displays and backroom storage. In manufacturing, it can be used to create packing stations, work centers and various multi level storage systems. At home, think about organizing your garage or storage barn with boltless shelving.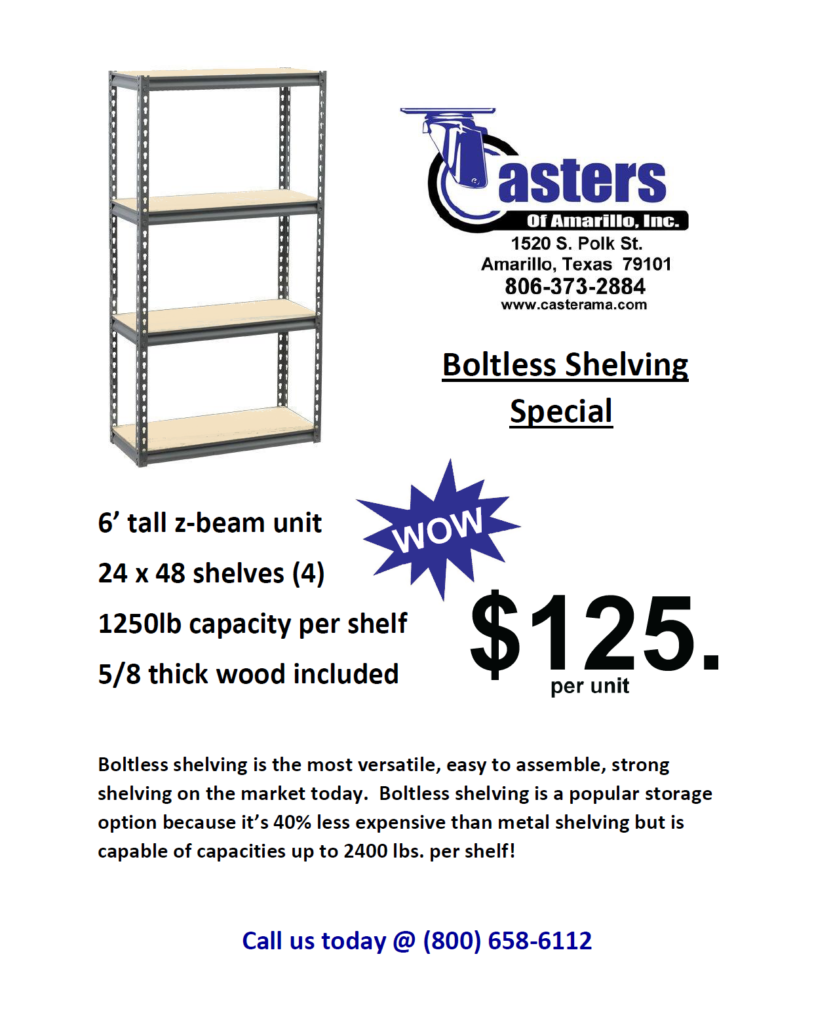 Boltless Shelving is Strong, Durable and Versatile
Boltless shelving is made of 14 gauge steel. Two post types allow for standard or heavy duty applications and a third post type, a tee post, provides a "common" post for add on units when you want your shelving connected. Four beam styles will address most situations from light duty, low profile shelving to heavier duty storage with capacities up to 2400 lbs per shelf. Shelving units can be as high as 12' and each shelf height can be adjusted accordingly at 1-1/2" increments because of the tear drop post design. Shelf lengths range from 2' to an uninterrupted span of 8' to hold odd and bulky hard to store items. Unit widths can range from 12" to 48". Shelf decking is standard 5/8" particle board, however, other decking materials are available.
Affordable Installation and Assembly
Completely boltless connections allow for easy assembly.  No bolts, nuts, screws, pins or clips. The assembly process is quicker and brings installation costs down. The only tool you need is a rubber mallet. This structure is so stable that no cross bracing is needed which gives the added advantage of access to product or inventory from all four sides. Quick assembly also means quick disassembly when you need to relocate your units or create extra storage.
Where to find Boltless Shelving
Many storage and distribution needs can be meet with this product and it can be found in stock at Casters of Amarillo, Inc. If we do not have the size or quantities that you need, it is normally a 1 week lead time to get your order in. If your shelving and storage needs cannot be met with boltless shelving, we can take the next step up with an introduction to Pallet Rack. To learn more about our products, give us a call today at 1(800) 658-6112 or contact us via email. We would like visitors to come visit our showroom, so please feel free to stop by 1520 S. Polk St in Amarillo, Texas.