December will be here before we know it and it's that time of year that we gear up for the annual Amarillo Farm and Ranch Show. The 2016 Amarillo Farm and Ranch Show is a 3 day event being held from the 29th of November to the 1st of December at the Amarillo Civic Center in Amarillo, Texas. This event showcases the latest products and technologies, while offering educational seminars for the agriculture industry.
---
For this year's show we will be showcasing our new flat-free products along with many of the products that we all know and love.
American made Flat-Free wheel assemblies manufactured by Amerityre Corporation
Are you tired of dealing with flat tires on your lawn mower?
Goat heads got you down?
Casters of Amarillo, Inc. is currently offering a solution to your problem.
Flat-Free wheels are an alternative to pneumatic wheels, allowing the same characteristics as pneumatic wheels except they never go flat. Flat-Free wheels are manufactured from closed cell micro cellular polyurethane foam which offers the same advantages of pneumatic wheels without the possibility of air loss. Flat-Free wheels provide shock load protection and a smooth cushioned ride, rolling easily over debris and small obstacles.
Perfect for hand trucks, dollies, carts and mobile equipment such as generators or lawn and garden equipment. Flat-Free wheels are a must for work sites that are covered with nails, screws, glass and other tire hazards. Eliminate inconvenient flat tires while saving time and money.
---
Check out our decorative line of furniture casters from Shepherd Caster Corporation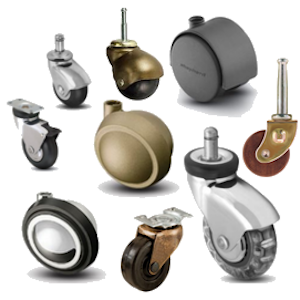 Ideal uses for these are furniture, store fixtures, medical equipment and home and office chairs. Available fastener types include stemless, threaded stem, grip ring, friction stem, grip neck or bolted top plate. Our finishes include flat black, bright chrome and windsor antique. These furniture casters have a self-lubricating acetyl resin bearing without having an exposed axle.
Please stop by our booth #H923 in the Heritage Room and visit with us.  Visit our Casters, Wheels and Material Handling Equipment pages on our website to see our full line of products.  Contact Us via email or call us at (806) 373-2884 for more information.  You can also visit our store located at 1520 S. Polk Street in Amarillo TX.
Hope to see you there at the 2016 Amarillo Farm and Ranch Show!