Wherever there is rotation, there is a need for some form of bearing. The function of a bearing is to minimize the friction between moving machine parts and to carry a load. The majority of these nowadays are a rolling bearing consisting of an inner ring, an outer ring, a number of rolling elements (balls or rollers) and a cage. Most are made of steel, but other materials are also used, such as ceramics, bronze or plastic.
Tapered Roller Bearings: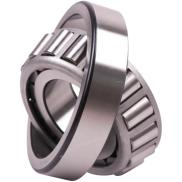 Tapered roller bearings are a true precision bearing designed for the heaviest loads, and/or high-speed operation. In addition to great radial capacity, they have a side thrust load rating of 60% to 90% of radial capacity rating. The assembly consists of an outer race or cup and a tapered cone roller assembly, normally held in position with closures. When required, more positive grease or dust seals can be provided. Spacers are provided to tighten the caster legs against the bearing assembly. Two are installed per wheel.
---
Straight Roller Bearings:

Straight roller bearings consist of a cage-type roller assembly and a split outer race. These turn on hardened and ground spanner bushings which provide a long wearing precision inner race. Press fit combination metal retainer/ thrust washers hold the bearing in place. Rubber sealed retaining washers are available for sealed wheels. These have high radial capacity, but minimal side thrust load rating. Some applications of wheels do not require the use of the spanner bushings.
---
Sealed Precision Bearings: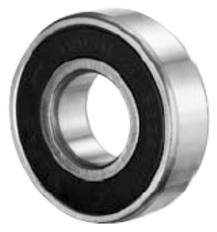 Sealed precision ball bearings are recommended for maximum rolling ease with no maintenance lubrication required. They provide quiet operation for medium duty to heavy duty loads. Used in pairs, they press-fit into the wheel hub. A precision ball bearing (standard or stainless steel) for light or heavy-duty applications can be provided for both radial and thrust loads.
---
Flanged Ball Bearings: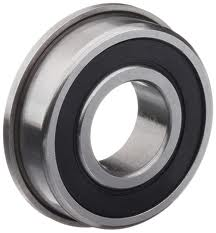 Flanged ball bearings are a unique anti-friction design that will eliminate seizing of the bearing and the wheel. Each is supplied with shields and are constructed of hardened bearing quality steel with full complement of ball bearings and are pre-lubricated. The load is transmitted from the outer race to the ball, and from the ball to the inner race. Since the ball is a sphere, it only contacts the inner and outer race at a very small point, which helps it spin very smoothly.
---
Delrin Bearings: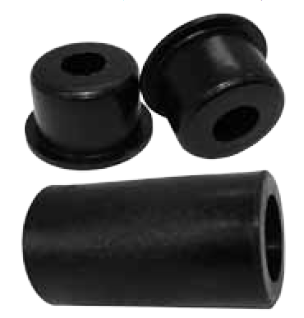 Delrin bearings are extremely durable under a wide range of temperature and humidity conditions. They are corrosion resistant. Wheels with the delrin bearing are well suited for applications where brine conditions, steam cleaning, or where excessive water is present. Light oil or grease lubrication is always recommended.