Heavy Duty Casters
Monday, May 23rd, 2016
Heavy duty casters offer increased weight capacity and durability in the 2" tread widths as well as introduces larger wheel sizes up to 10" x 2-1/2" at economical prices. The yoke construction is made from 1/4" thick cold rolled steel.  Double ball bearing raceways are deeply formed, polished and heat treated, offering a smooth swivel action and superior durability. The legs are designed and formed for resistance to side thrust failure and are robotically welded to a large 3-1/4" diameter raceway. The swivel raceway & top plate are held together with a 3/4" heat treated nut & bolt kingpin and has a 1/2" axle.  Grease fittings mounted in the swivel raceway & wheel axle and in most wheel hubs.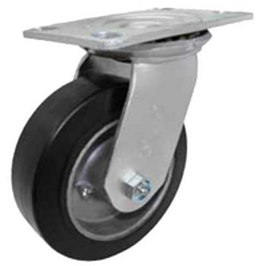 There are many types of wheels and dozens of bearings, brakes and options to choose from. With capacities up to 1500 pounds, common applications include various material handling carts, A-Frames, terminal dollies, gantries, hoppers, ground support equipment, trash containers, and various other medium heavy duty equipment.
Majority of wheel types are NSF Listed.